Summer is in the air and I am in desperate need of some new crochet projects!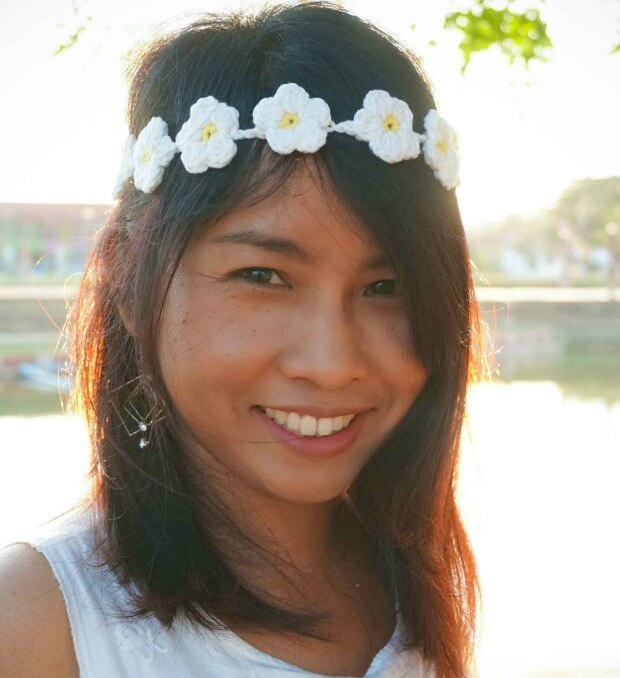 I love crocheting small appliques in the summertime, because they're quick and easy and don't take too much yarn.
Since I am absolutely in love with the white summer dress that I have, I decided to create a teeny tiny daisy free crochet pattern to accessorize it!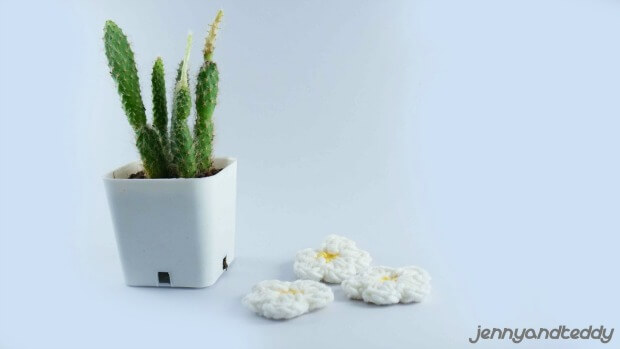 These tiny daisy appliques take about 10-15 minutes to make if you're relatively new at crocheting, but can be done in less time if you have more experience.
They use some of the same basic stitches that are in my other patterns, so the skills are easily transferable. I got done enough daisies for a headband in under an hour!
Speaking of headband, one of my favorite things about this pattern is that the daisies can be crocheted together to make beautiful headbands!
By I did a easy crochet chain to connect them together and I crocheted about2 chain stitches between them so they would have a nice space and the result is the cutest and easy flower headband ever!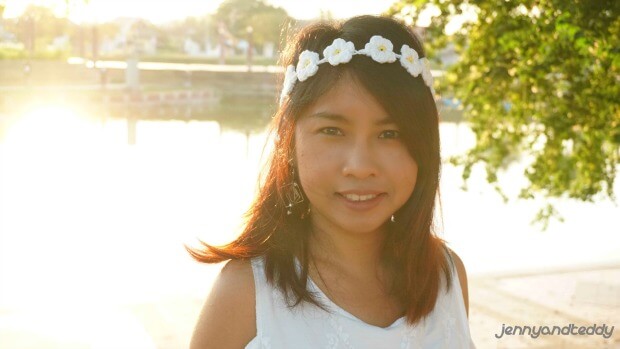 I get so many compliments on mine and have seen similar things retail in the store for $15-20! Since each daisy uses so little yarn, I was able to make mine for only a couple of dollars. The best part is that it can be adjusted to fit anyone's head – even a child's!
All you do is add or subtract daisies from the chain. In addition to the headband, this spring/summer applique crochet project can be used for zipper pulls, hair clips, and the teeny tiny daisies can even be sewn to the brim of a hat!
I prefer to use cotton yarn for this free crochet pattern, because it's so much easier to work with and feels so much nicer in the finished project.
One skein of yarn will last you a very long time if you're just using it for this project, but you can always use scrap yarn instead.
So, whether you're a novice or expert, this teeny tiny daisy applique free crochet pattern is the perfect project for those hot summer days!
For this project you will need to know crochet basic stitches.
How to make a magic adjustable ring, half double crochet and double crochet. If you are absolute beginner, check this out. how to make magic ring.
I make a video tutorial as well check it out.

Let's start with a supplies.
– I used scraps yarn or Lion brand 24/7 cotton
– 3.50mm crochet hook
– Sewing yarn needle
(you can make them bigger or smaller by using bigger or smaller size crochet hooks
Round1.
Make magic ring or adjustable ring and 5sc in ring (5 sts)
Round2.
(Sl st in the first stitch and 4hdc all in this same stitch) repeat it around at the end you will get 5 petals. The end!
See, how easy peasy is that? I hope you guy enjoy it!
Happy crocheting!