Easy crochet festival crop halter top or a crop top is perfect for summer.
This cute festival crop top is here with full step by step video tutorial and easy to make this festive crochet in any size please keep on reading.
And I cannot resist to making a crop top because they are so so quick to make and easy is a plus.
This cute crochet Lemonade crop top or summer halter top you can make then in just one afternoon.
This crochet crop top could be your summer holiday vibes or matching pair with a bohemian long skirt.
It's made with cotton yarn and just a combination of a few basic crochet stitch like single and double.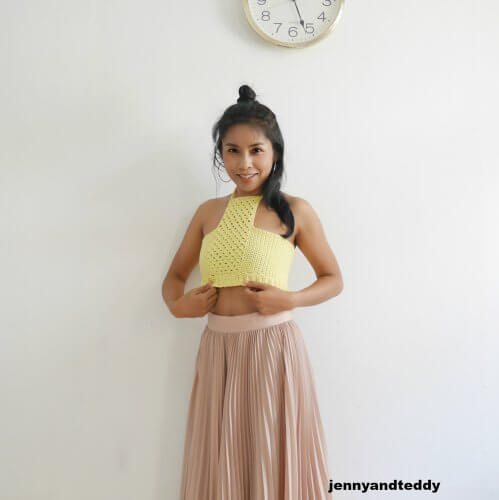 Gauge: 5 single crochet stitches x 5 rows = 1 square inch
Let's get start!
– I used cotton DK weight yarn/ 3 light. I use around <500 yard.
– 3.0 mm crochet hook
– Sewing yarn needle
-stitch marker
Skill and abbreviations
You will need to know how to make (American crochet term)
-Sl st (slip stitch)
-hdc which mean half double crochet
-blo which mean crochet in back loop only
-dc which mean double crochet
-sc which mean single crochet
-ch Chain
-slip knot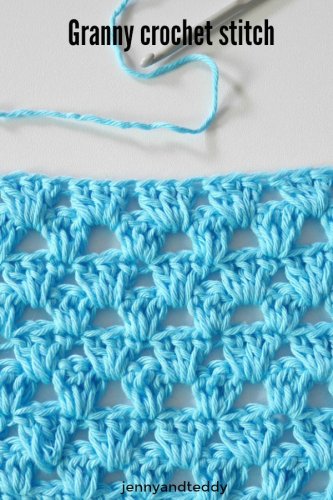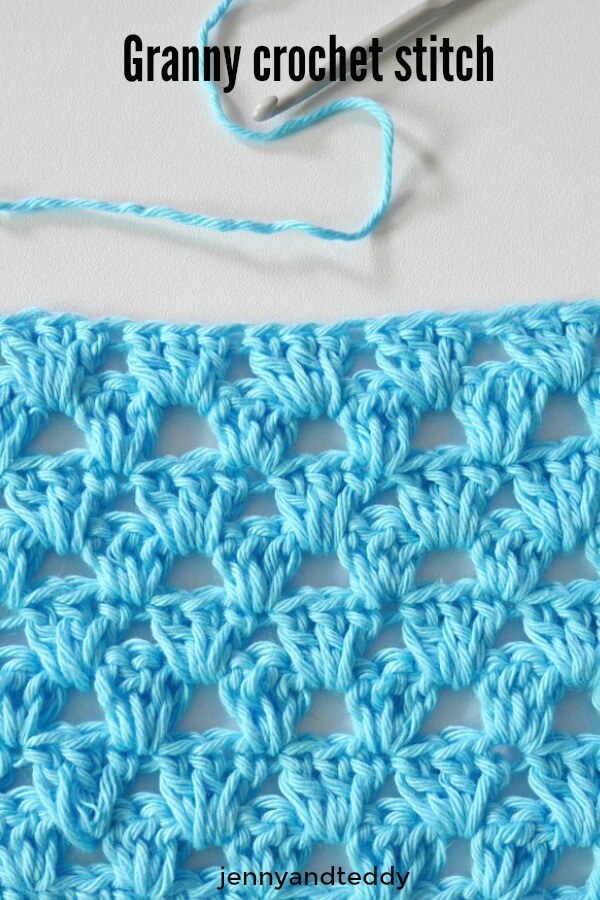 Finished Size Approximately:
This top is made in size small. the other sizes M,L, XL,2XL or more just add more row to make it longer to wrap around your chest. see pattern below.
For me the model wearing this piece, I am 4'9 feet tall.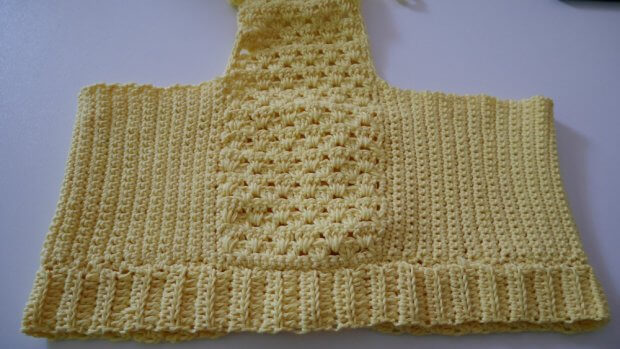 Measurement.
of one rectangle. (middle section)
-10 inches long
-4 inches wide
Lemonade crop top instruction.
Middle section.
Pick up crochet hook size 3.0 mm and Start of by making a slip knot Then make 18+2 chains (foundation chain multiple of 3 +2).
After you got the foundation chain then make sc in each chain across, turn and start row1 of granny stitch.
Row1: ch2, then make 1dc in the same stitch * skip 2 stitches, then work 3dc in next stitch* repeat * to * across until end of the row until you will have 3 stitch remain, skip 2 st, 2dc in the last stitch, ch2 turn.
Row2. now you will work 3dc in each space ( between double crochet group ) across until end of the row, then dc in the last stitch, turn.
Repeat row 1 and 2 until you get 10 inch long.
After you finished the middle section then sc along the edge of each side to prepare for the body part.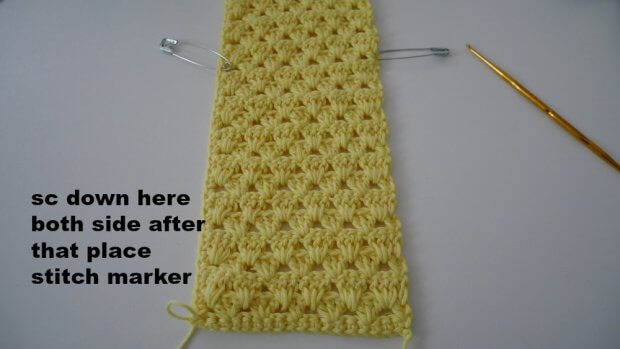 Then place stitch marker at 5.5 inches. And sc back and forward to the marker point until you get the length to wrap around your chest.
For size small is 11 inches long. and at the last row we will make a hole so we can put the tie on by turn chain 2, skip 1 st then dc in the next stitch * skip1,ch1,dc in next st* repeat *to* until the end of the row.
Repeat the same process to the other side.
After you finished 2 side then it time to make a band
start by chain 9 (foundation chain)
Row1. hdc in each chain across until the end of the row, ch1 and turn.
Row2. hdc in each stitch across until the end of the row, blo only to create the ripping effect,
Repeat row 2 until you got the length that match the bottom of crop top.
After you got the length that match the crop top then time to attach them to the body part by sc crochet.
Time to making the tie for the neck.

Now enjoy your new crop top.
If you make one I would love to see your creation tag me on Instagram! would love to see your creation.
Happy crocheting.