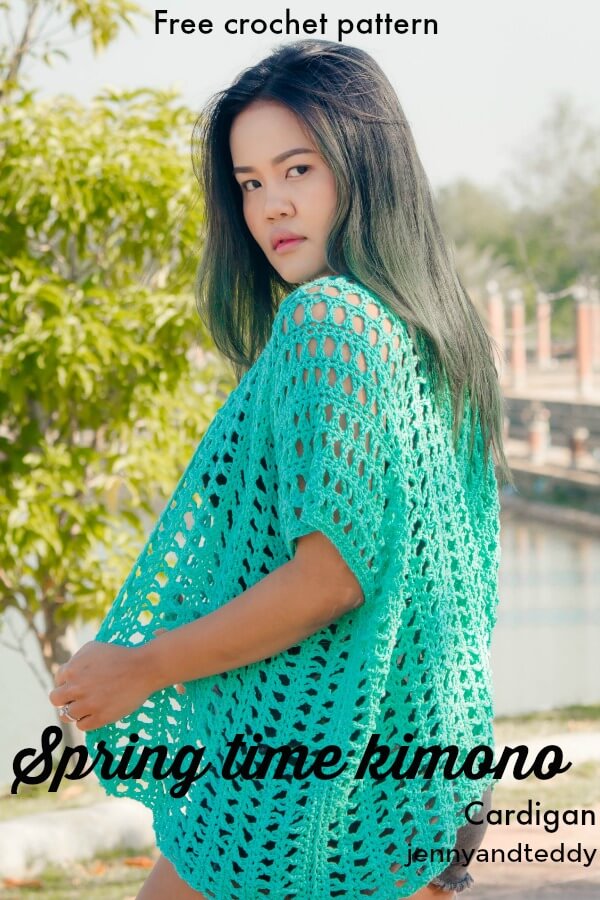 Spring is getting closer just right around the corner. This easy springtime crochet cardigan-free pattern is here for you girl to enjoy.
Not only this lacy cardigan will be perfect for layering for this time of the year but also be very fast to crochet up on the weekend.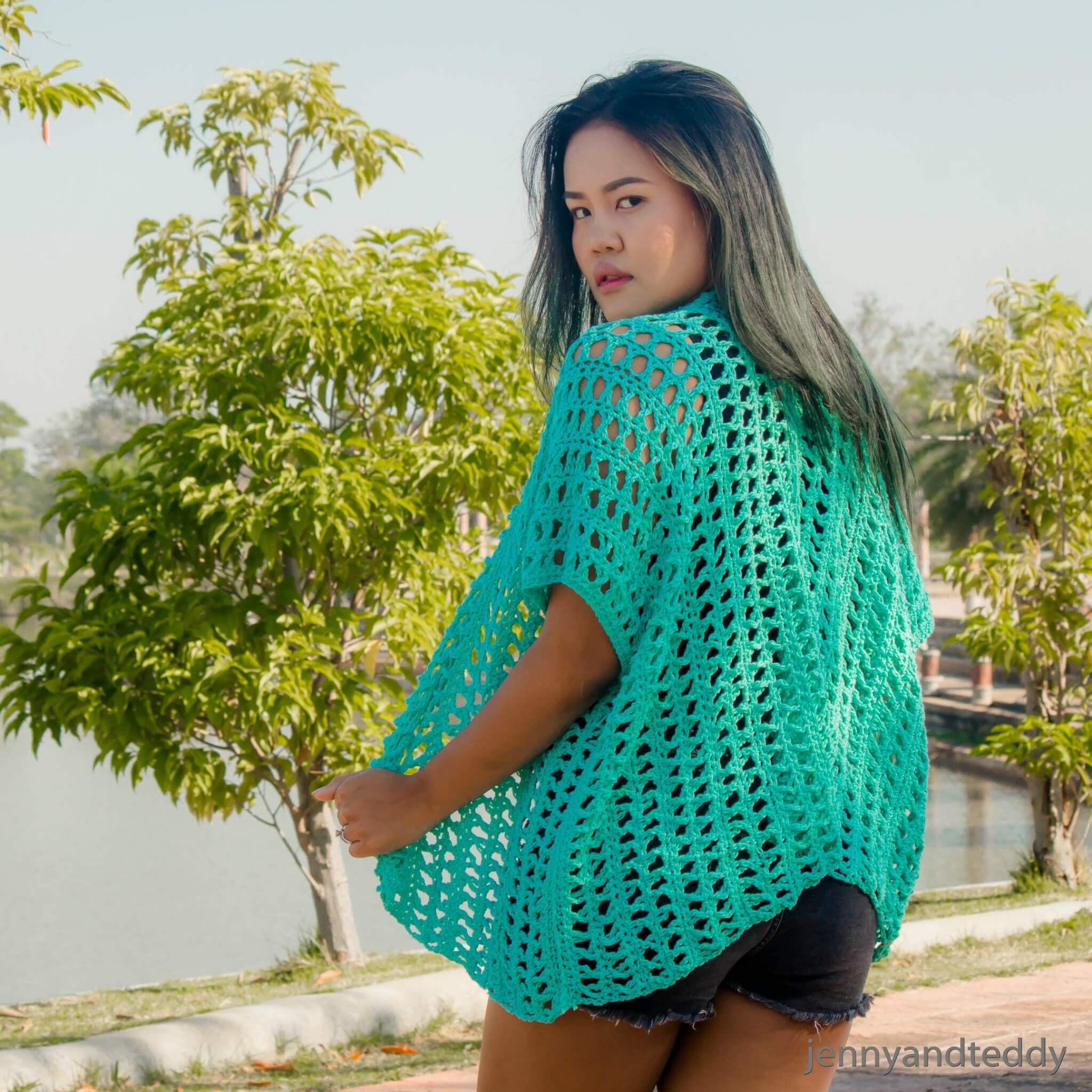 Breezy & lacy spring cardigan pattern.
There are so many crochet spring cardigans out there but this one is so unique, easy, and straightforward.
This lightweight and lacy summer cardigan are made from 2 simple rectangles with simple crochet lace stitches.
The big crochet hook that uses in this pattern will create some kind of lace effect so it will let the air throughout the crochet garment.
Talking about summer here is another easy crochet kimono cardigan that is also great for this spring season.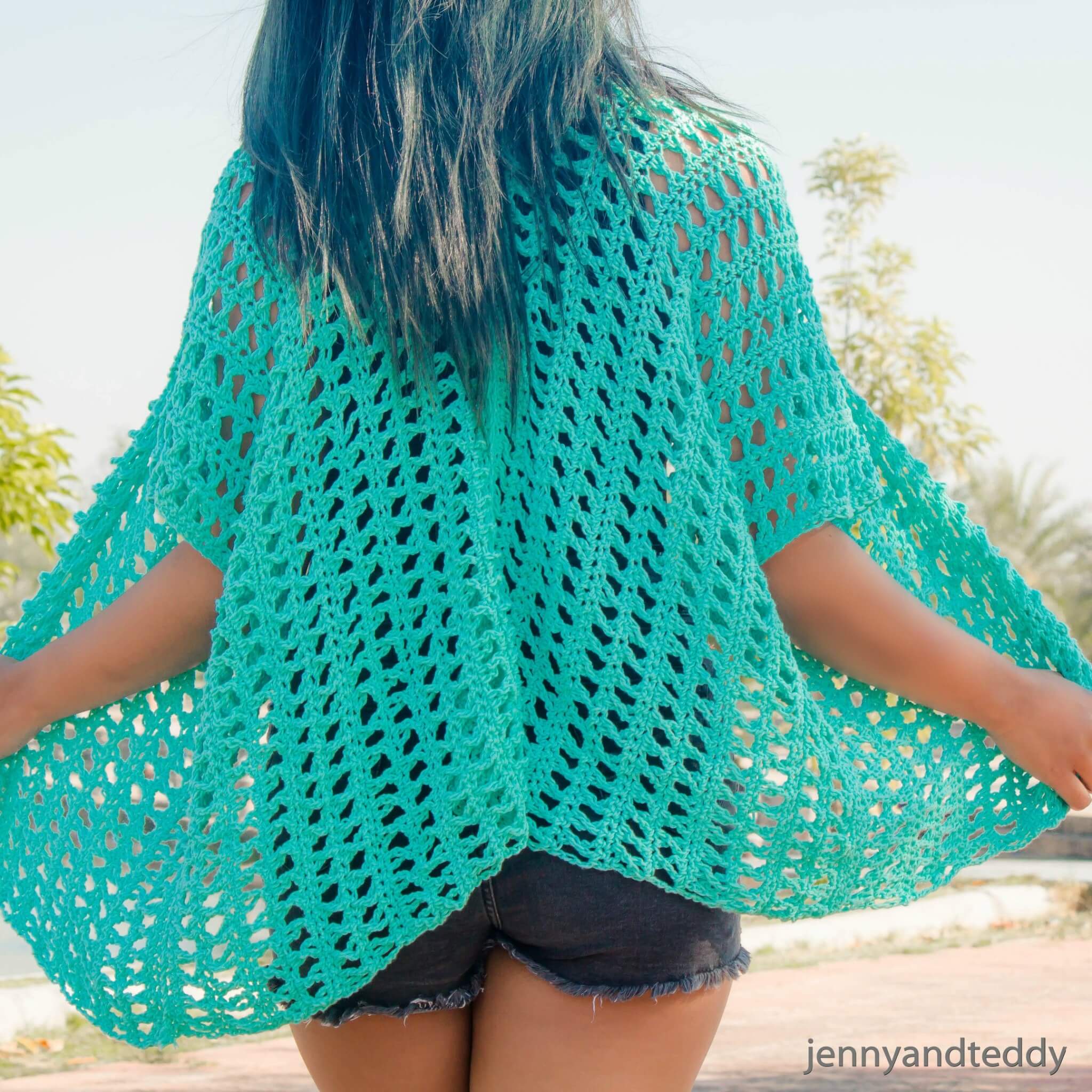 The best yarn for this spring cardigan crochet pattern.
This lacy spring cardigan pattern use 100% cotton yarn with DK weight. The cotton yarn is perfect for the summer and spring seasons because they are breathable and feel smooth on your skin.
Cotton yarn also has a good weight that will create a beautiful drape to the crochet clothes.
If you do not have cotton yarn in hand you can switch up to any kind of plant fiber content instead.
Acrylic and wool yarn also work for this easy crochet cardigan as well but you will not get the pretty drape as cotton yarn.
Let's get started!
Material for crochet springtime summer cardigan.
I used cotton DK-weight yarn.
6 mm crochet hook or J/10 US hook size
Sewing yarn needle
Skill and abbreviations
(American crochet terms)
You will need to know how to make
Sl st (slip stitch)
sc which mean single crochet
Tr which mean Triple crochet
ch, Chain
slip knot
Chain 3 (counts as double crochet), Turn, *skip the first stitch, triple crochet into next, then go back to the stitch that we just skip and make triple crochet into this stitch *, this will create the criss-cross*, repeat* this to the end. Triple crochet into the last stitch.
Finished Size Approximately: one size fits small to medium.
The model is 5'6 feet tall. Medium size.
How to customize to a bigger size for this lacey spring cardigan pattern.
To make it a bigger size or plus size by crocheting more rows on each rectangle until your desired wide, also try it along the way.
How to crochet spring cardigan for beginners video tutorial.
Measurement of a cardigan.
The example size fits S and M
Springtime kimono cardigan, I measure around: 24-25 inches from shoulder to bottom and 30 inches wide when laid out flat.
Each rectangular I measures around 15 inches wide x 49 inches long.
For the width: If you need to make it wider (bigger size) simply add more rows to the rectangle.
For the length: work in even numbers like 120, 130, 132, 140, etc. I start this kimono cardigan with foundation chains of 126.
Spring cardigan crochet pattern instruction.
Start off by making a slip knot Then make 126 chains (foundation chain)
Row1. sc in the next chain from hook, then sc in each chain across until the end of the row, ch1 turn.
Row2. sc in the next chain from hook, then sc in each chain across until the end of the row, turn.
Row3. ch3, make criss-cross triple crochet stitch in each st across until the end of the row, in the last st make 1 triple crochet, and ch1, turn.
Repeat rows 1, 2, and 3 until the piece measures approximately 15 inches wide, and Fasten off.
Repeat the same process to make the second piece of a rectangle.
Video tutorial for criss-cross triple crochet stitch by me.
Assemble a crochet cardigan.
After finishing 2 pieces of the rectangle, it's time to assemble.
Center back Seam:
Lay 2 pieces of rectangles side by side. Then fold each piece in half.
Now, use a yarn needle and whip stitch to seam up the middle part together.
( the center back panels, Tie off and weave in ends)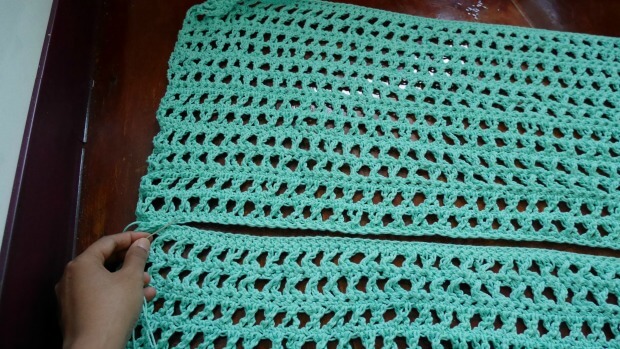 Side Seams to create the armhole:
Seam up each side of the spring cardigan with a whip stitch or you're prefer stitch method.
Leave for the arm hole about 7- 8 inches long at the top upper end.
You may adjust the how long of the arm hole to fit your size.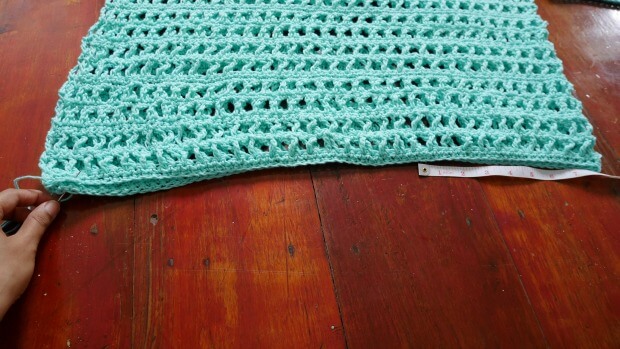 Now enjoy your new kimono cardigan.
If you make one I would love to see your creation tag me on Instagram! would love to see your creation.
Happy crocheting.