This time I was tempt to making more men crochet item because I had a lot of grey yarn left over. And in my patterns collection mostly have girly girl stuff which I love, but did not have much manly crochet item, so It's would be great to add more men crochet accessory that why, The Norton men scarf was born!
So, Scarves are one of the fantastic male accessories for guys and If you lady looking for some quick and beginner friendly crochet men item to make for your man in this valentine day or on any special occasion. This Norton might be perfect fit for your need and they are beginner friendly as well.
I mainly use acrylic yarn to make this men scarf. I also pick up cream color to add some contrasting to the scarf.
Let's get start!
– I used   Lion brand wool Ease chunky yarn or for non wool I recommend Brava Bulky yarn from knit pick.
-Yarn weight  5 chunky
2 color  main color will be grey 2-3 skein and  cream color 1 skein
– 6 mm crochet hook or J/10 US hook size
Skill and abbreviations
(American crochet terms)
You will need to know how to make
-Sl st (slip stitch)
-sc which mean single crochet
-ch, Chain
-slip knot
Gauge: 3sc x 3 rows = 1 square inch
Finished Size Approximately: one size fit all
Measurement.
-6 inches wide
-80 inches long without fringes
This pattern is made for beginners!  There is a basic skill level required to make.
If you don't understand any technical crochet words, don't worry I got you cover!
Here is a video titled 'free crochet class on craftsy' and a free pdf file titled 'the beginner's guide to crochet'. These will explain a lot for you
Learn how to read crochet pattern and how to work single crochet free class on crativebug.
The Norton men scarf instruction.
Start of by making a slip knot Then make 220 chains foundation chain. ( grey)
This scarf can be as wide or as narrow as you want it to be, by simply adjust the foundation chain to lower number like ( 110, 140,160 or 180 even number) for the length. And for the wide simply add more row or decrease row.
Row 1:( grey) sc in each chain across, ch1 turn
Row 2:( grey) sc in the next stitch from hook * ch1, skip 1 st, sc in next st * repeat * to * across until the end of the row. Ch1 turn
Row 3: ( cream) sc in the first ch space * ch1, skip 1 st, sc in next ch space * repeat * to * across until the end of the row and make sc on the turning ch. Ch1 turn
Row4: ( cream) Repeat row 3
Row5-18: ( grey) Repeat row 3
Row19-20: ( cream) Repeat row 3
Row21: ( grey) Repeat row 3
Row 22-23:( grey) sc in each stitch across, ch1 turn
Fasten off.
photo tutorial.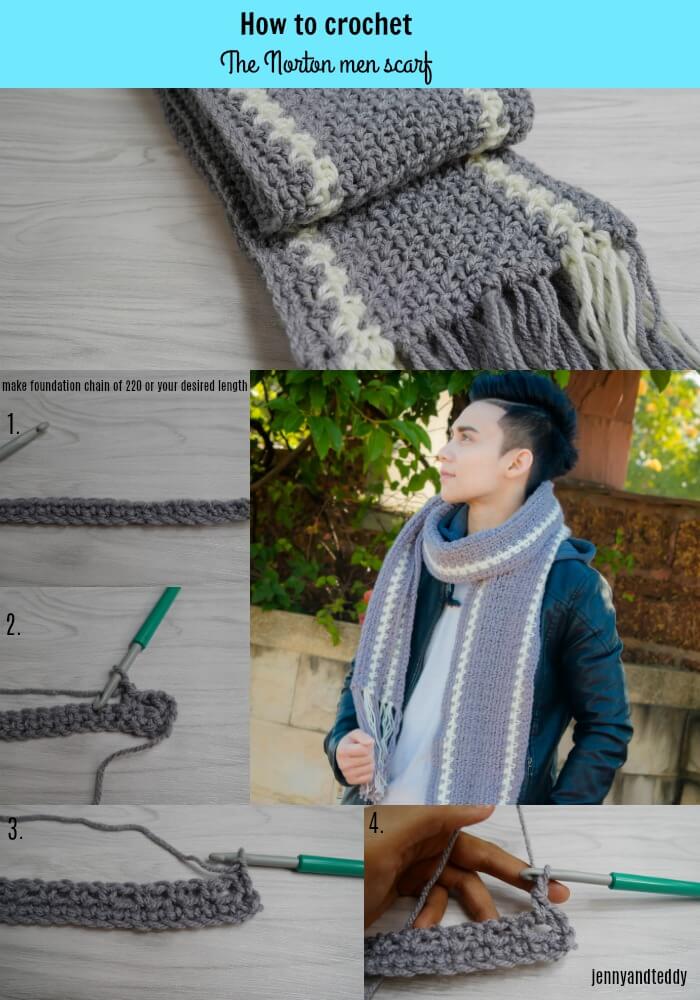 Finishing.
Weave in all ends with yarn needle.
Adding the fringes (7 inch long ) at each end of the scarf.
Now you have your very own Norton scarf!
If you make one I would love to see your creation tag me on Instagram! would love to see your creation.
Happy crocheting.
Can't crochet or don't have time? no worry! Get unique custom handmade just for you on Etsy and a plus you guys all support small business owner!