This crochet star pattern is one of the easiest thing to crochet for Christmas decorations. The free pattern is beginner friendly comes with a full step video tutorial.
When my friend told me that she wanted to decorate her wall for the upcoming end-of-the-year season, I knew I could create a simple crochet applique such as a star decorations for her Xmas theme.
This simple crochet 3D star pattern is just big enough to make a statement but small enough to be adorable for whatever you use it for.
Simple crochet star pattern.
There are so many free crochet star patterns out there, but this one is very basic and nothing fancy they are crocheting all in one piece, so there is no sewing involved. Moreover, they almost look like a flower.
We will probably start with a magic adjustable ring to create the center part of these Christmas star ornaments, then slowly crocheted the five points by adding them one by one with basic crochet stitches.
So, I whipped up about a dozen of these star motif for my friend to make into a garland to hang on her wall.
I slipped a delicate ribbon through one of the five points on each star and then helped her hang them up.
They look so cute and really complete the look of the theme.
Which crochet star stitches are used in this pattern?
In addition to this crochet star tutorial uses single crochet stitch, double crochet stitch, and chain stitch, which are very basic stitches that you guys are familiar with when you start to learn how to crochet.
Best yarn for this star pattern applique.
Depending on how you want to use them, you can use cotton or acrylic yarn.
My choice is always cotton because I love working with it, but you can use whatever you have on hand.
It doesn't take too much yarn, so you should be able to make a bunch of them using leftover scraps of yarn from other projects.
Need more easy crochet decorations patterns?
Skill and abbreviation.
For this tutorial, you will need to know crochet basic stitches.
American crochet term
How to make a magic adjustable ring
hdc, which means half double crochet
dc, which means double crochet
ch, which means chain
sl st, which means slip stitch
st, which means stitch
sts which means stitches
Let's start with supplies and materials.
I used scraps of yarn.
3.50 or 4.0 mm crochet hook, but you can use any crochet hook size that suits your yarn weight in the label recommends.
Sewing yarn needle.
you can make a small start by using smaller size crochet hooks and big star by using bigger crochet hook sizes.
How to crochet a star for beginners step-by-step video tutorial.
Free crochet star pattern instruction.
Start with crocheting the center part of the star.
Round1.
Make a magic ring or adjustable ring and 5sc in the ring (5 sts)
Round2.
2sc in each st around (10 sts)
Round3.
(1hdc in next stitch from hook, then in the next stitch make 1dc and chain1, then 1dc all in the same stitch) and repeat around.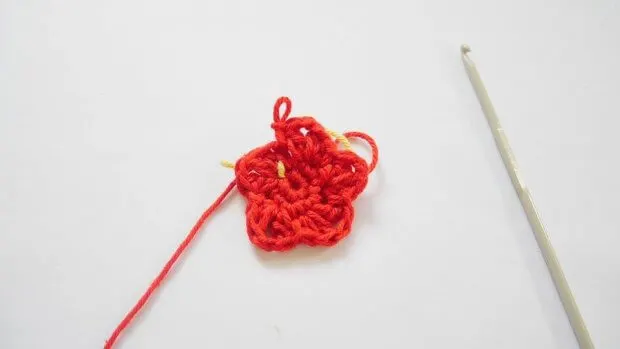 Round4.
*Sc next stitch from hook, skip1 stitch, then, in the next stitch, make 3dc in the chain space from the previous round, then chain2, then make 3dc in the same chain space* repeat this * to * around until the end of the round.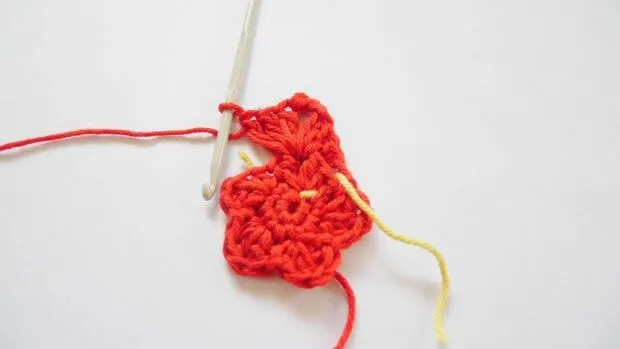 All done!
Happy crocheting!
Let me know how you're going to use your stars!