Easy crochet star applique 5 point free pattern beginner friendly with full video tutorial.
When my friend told me that she wanted to decorate the baby's nursery in a star theme, I knew I could create the perfect applique to use for decorations.
This easy crochet star applique is just big enough to make a statement, but small enough to be adorably cute for whatever you use it for.
The free pattern is all yours and can be used to create a ton of delightful little stars.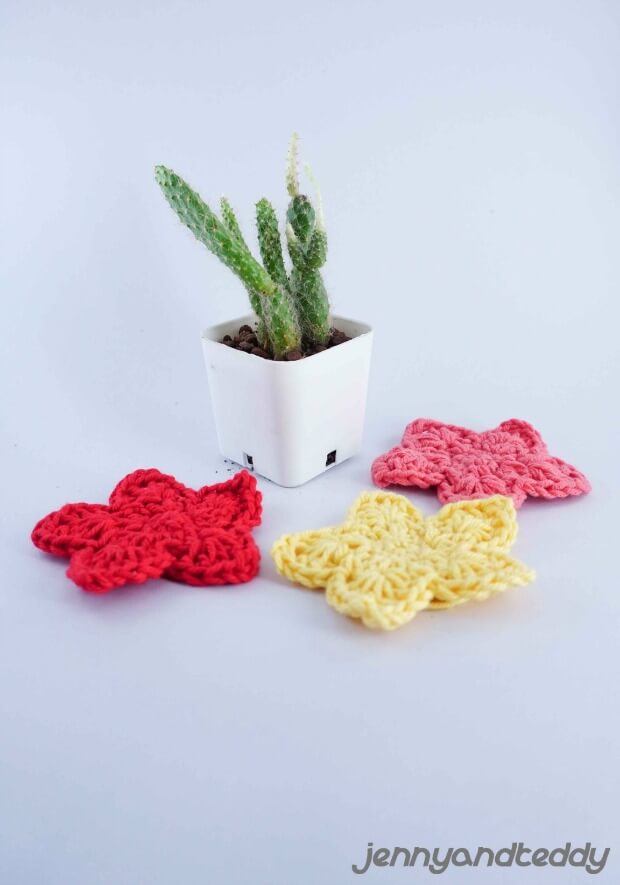 Since my friend is having a little girl, she wanted to decorate the nursery in yellow, pink, and red.
So, I whipped up about a dozen of these easy crochet stars for her to hang from the curtain rod in the nursery.
I slipped a delicate ribbon through one of the points on each star and then helped her hang them up. They look so cute and really complete the look of the room.
In addition to using the crochet stars applique as room décor, you can use them to decorate your bags, add them to headbands, or crochet them together to make a decorative banner.
If you slide a small dowel through a star, you could use it as an accent piece in a planter or flower display.
I'm sure you can think of other uses for them too!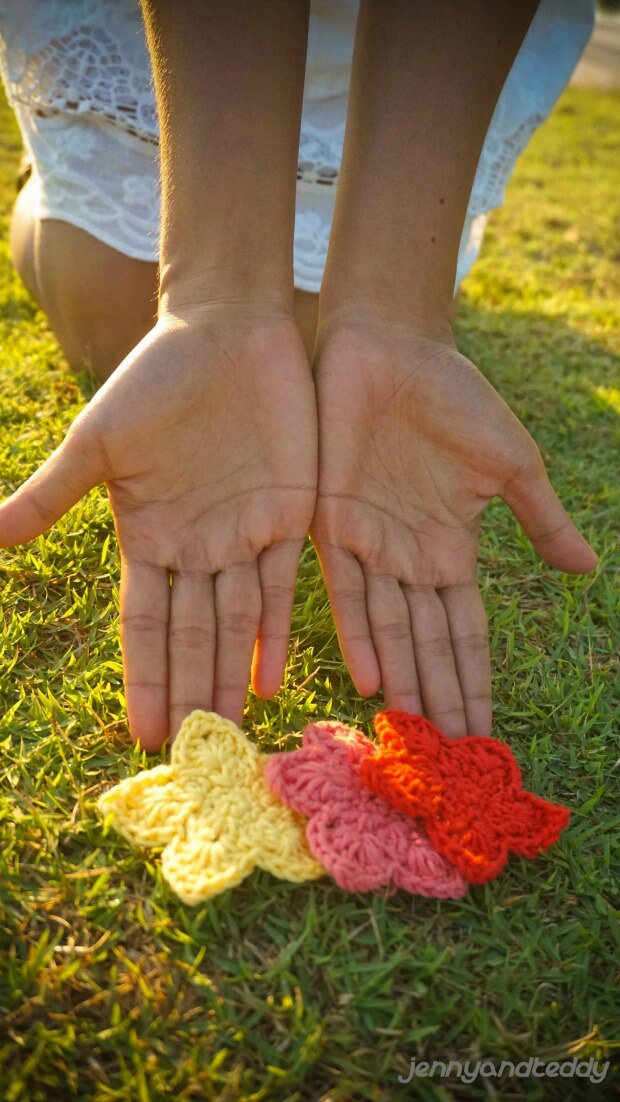 Depending on how you want to use them, you can use cotton or synthetic yarn.
My choice is always cotton, because I love working with it, but you can use whatever you have on hand.
It doesn't take too much yarn, so you should be able to make a bunch of them using leftover scraps of yarn from other projects.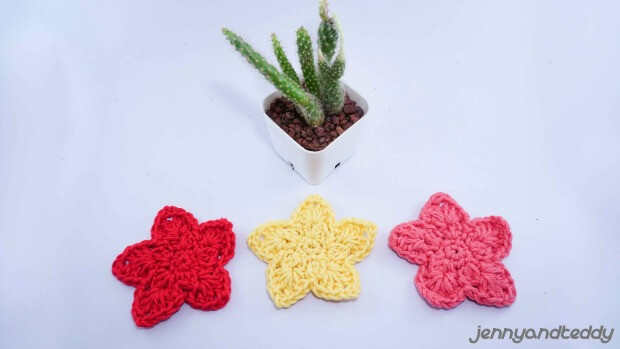 This easy crochet star applique free pattern is perfect for beginners, so if you're new to crochet, this would be a good pattern to try.
For my more seasoned crochet friends, this pattern can be done in about 10-15 minutes.
It's quick and easy and makes a great addition to your crochet repertoire.
Shall we start?
For this project you will need to know crochet basic stitches.
How to make a magic adjustable ring, half double crochet and double crochet. If you are absolute beginner, check this out. how to make magic ring.
Let's start with a supplies.
– I used scraps yarn or Lion brand 24/7 cotton
– 3.50 mm crochet hook
– Sewing yarn needle
(you can make them bigger or smaller by using bigger or smaller size crochet hooks
Video tutorial for easy crochet star applique on youtube.
Start with
Round1.
Make magic ring or adjustable ring and 5sc in ring (5 sts)
Round2.
2sc in each st around (10 sts)
Round3.
(1hdc in next stitch from hook, then in the next stitch make 1dc and chain1 then 1dc all in the same stitch) and repeat around.
Round4.
*Sc next stitch from hook, skip1 stitch then, in the next stitch make 3dc in the chain space from the previous round then chain2 then make 3dc in the same chain space* repeat this * to * around until the end of the round.
Let me know how you're going to use your stars!
Happy crocheting!