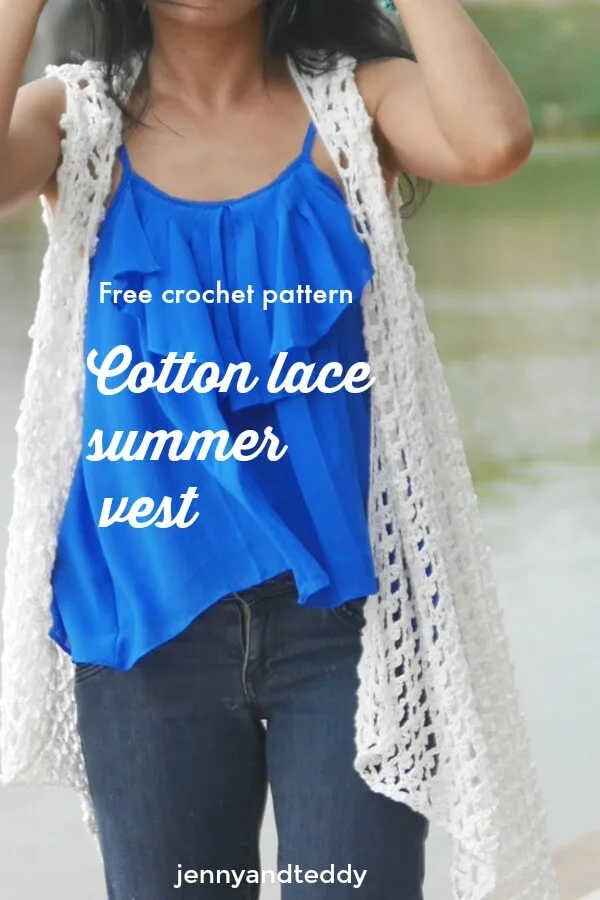 Raise your hand up if your girl loves layering; I do too! And this lacy crochet summer vest will add some fun to your wardrobe, they are perfect for this hot, humid weather.
I love vests, they never fail to top up any outfit. And this lightweight cotton crochet vest is so easy to mix and match.
Whether your style of the day is streetwear, casual look, or go for the glam they will make it to the top for you with this breezy crochet vest.
Easy crochet summer vest pattern.
This easy breezy lightweight summer vest crochet pattern is made from three identical rectangles, one rectangle for the back panel and the other two rectangles for the front panels.
And the lacy mesh crochet stitch will add some light and airy effect to the crochet pieces.
I have added a full detailed step-by-step video tutorial for you girls who love to see how I crocheting a summer vest in action.
Actually, you can make this simple vest pattern in any size just by adding more crochet foundation chains to increase the width of each panel to fit your bust size. Pretty straightforward to do so.
Which Yarn to use for crochet a summer vest?
Cotton yarn: Oh well, cotton or a plant base fiber content yarn is my top pick for hot weather because it feels really nice on your skin, almost a second-skin-like garment that you absolutely love it., sometimes you won't feel they exist lol. I am kidding.
Polyester or wool yarn: Both of them will work just fine as well, but they won't give a beautiful drape like cotton; they still provide pretty good outcomes and look great for themselves.
Need more crochet vests free patterns to make for this weekend?
Easy sweater vest crochet top with a unique collar that you will love.
Hoodie crochet vest jacket with an easy and quick hand-sew zipper.
Houndstooth stitch sweater vest with easy hoodie.
3 rectangle crochet Spring vest for beginners.
Supplies & materials.
I used Lion brand cotton dk weight yarn / 3 light, if you do not have cotton dk weight yarn you can also use 4 medium weight yarn instead. I am using around 900-1,000 yard fit sizes small to Medium.
( easy to adjust the size, See pattern instructions below)
4.0 mm crochet hook
Sewing yarn needle
stitch marker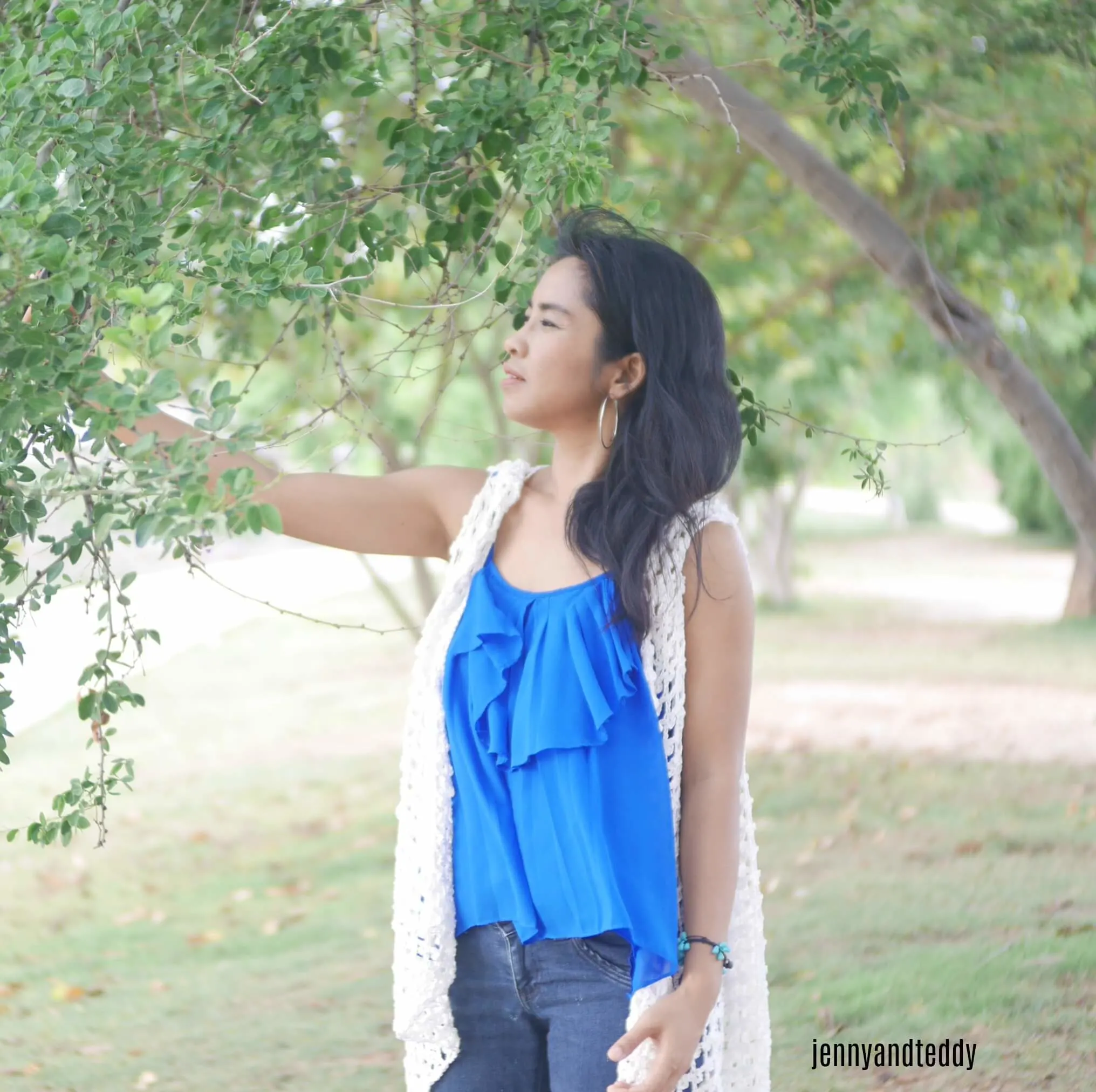 Skill and abbreviations.
(American crochet terms)
You will need to know how to make
St, which means stitch
sc which means single crochet
dc, which means double crochet
ch, Chain
slip knot
Finished Size Approximately:
Small to medium ( Easy to adjust by adding more chain to the foundation chain for bigger size)
For me the model wearing this piece, I am 4'9 feet tall.
How to crochet Lacy easy summer vest video tutorial.
Measurement.
Of one rectangle.
24 inches long
21 inches wide
For the width: If you need to make it wider ( bigger size), simply add more chain in multiple of 5+2.
For the length: add more row.
Cotton lace crochet womens summer vest free pattern instruction.
Start off by making a slip knot. Then make 82 chains (foundation chain multiple of 5+2 )
For size large makes 92 chains.
size XL makes 102 chains.
size 2xl makes 122 chains.
Row1. sc in the next chain from hook, * ch 5, skip next 4 chains then sc in the next ch* repeat * to* across until the end of the row. turn
Start to make picot chain crochet stitch.
Row2. * ch5 then ( sc,ch3, sc in the center ch of the previous row)* repeat * to * across until in last ch5 of the previous row make sc in the center of ch5 then skip2 ch and make 1dc in the last sc. ch1 turn.
Row3. sc in the same st. * ch5( sc,ch3,sc in the center ch of the previous row)* repeat * to * until you are in the last ch5 from the previous row, then make sc in the center of ch5.
Repeat rows 2 and 3 until your piece measures approximately 24 inches long, and Fasten off.
Repeat the same process to make a second and third-piece of the rectangle.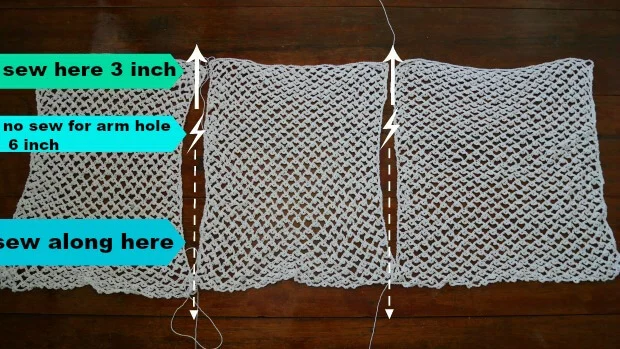 Assemble the crochet vest.
After finishing 3 pieces of the rectangle, it's time to assemble.

Lay 3 pieces of rectangles side by side. Now, use a yarn needle and whip stitch to Seam up each side of the vest with a whip stitch or your preferred stitch method.
At the top upper-end seam up 3 inches and Leave space for the arm hole of about 6 inches; you may adjust the how long of the arm hole to fit your size.
At the bottom end, seam up until the end. Finish off and weave in the end.
Now enjoy your vest.
If you make one, I would love to see your creation. Tag me on Instagram! would love to see your creation.
Happy crocheting.