Let me present to you, my sweetest little sea creature, Mr. Steve the tiny crochet whale applique free pattern.
He was born from leftover yarn from my easy crochet poncho and crop cardigan that I made and also the scrappy yarn that I had laid around in my basket and don't know what to crochet with.
Mr. Steve the mini crochet whale uses little time to finish up maybe less than 10 minutes also perfect for beginners.
Well, I always want to design a whale pattern to add to my crochet ocean theme and I thought crochet applique is the way to go for me because it was speedy and quick to whip up and I could crochet up 10 whales easily in my afternoon break.
I might want to design another version of this tiny crochet whale in amigurumi plush toy.
Mr.Steve the baby whale can be used in many different creative ways, make a whale garland, add a finishing touch to your crochet basic bucket hat, or a raffia beach bag.
And much more your imagination is no limit.
Here is my ocean crochet animal theme free pattern you might like to check them out they are so cute and quick to whip up.
Easy crochet whale pattern for beginners.
For this project, you will need to know crochet basic stitches.
American crochet term.
single crochet which means sc
double crochet stitch which means dc
half double crochet which means hdc
How to make a magic adjustable ring,
If you are an absolute beginner, check this out.
Let's start with supplies for the crocheted whale.
I used scrap yarn in this example piece is dk weight and 4 medium weight yarn with 3.0 mm hook or 4.0 mm hook.
You can use any yarn and crochet hook size that is suitable for the yarn weight you have.
How to crochet a mini whale applique step-by-step video tutorial.
Free crochet whale applique pattern instruction.
Round1.
Make a magic ring or adjustable ring and 7sc in the ring (7 sts)
Round2.
2sc in each st around (14 sts)
Round3.
(*Sc in next st, 2sc in next st*) repeat 4 times then sc next stitch and chain 6 then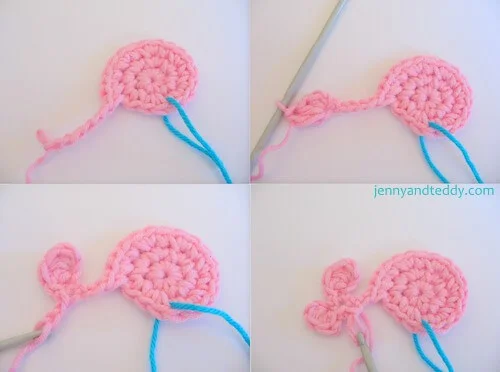 turn the next stitch from the hook ( make hdc,hdc, dc in the same stitch)
then sl st next, sl st next, chain 2 turns (make hdc,hdc, dc in the same stitch and sl st in the same stitch)
We are almost done here so go for the whale body sl st next, sl st next, next hdc, next dc, next dc, next sc, next sl st, next sl st, next sl st, next sl st.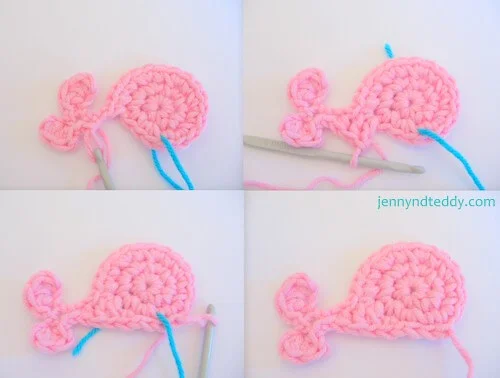 Simple and cute crochet whale applique, right?!
Leave a comment if you love it!
I hope you enjoy this free pattern.
Happy crocheting!