Looking for a quick and easy crochet project that you can whip up in very little time, that get adorable results this week? Mr. Steve the whale crochet applique might be a perfect fit for you.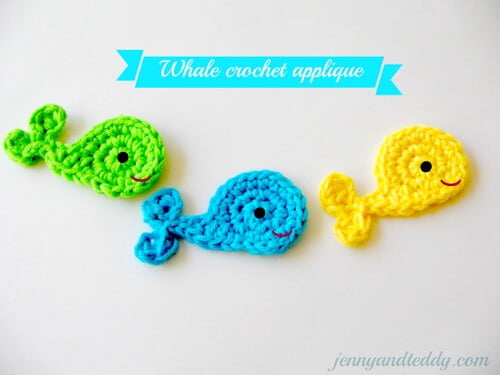 Well, I whipped up this tutorial for us to enjoy. Mr.Steve can be used in many different creative way, make a garland, add a finishing touch to your crochet hat or a T-shirt?
For this project you will need to know crochet basic stitches.
How to make a magic adjustable ring, half double crochet and double crochet. If you are absolute beginner, check this out. how to make magic ring.
Let's start with a supplies.
– I used scraps yarn because Mr.Steve quite a small whale
– 3.50mm crochet hook (you can make the whale bigger or smaller by using bigger or smaller size crochet hooks)
Here I made A video tutorial for Mr.Steve on youtube please check them out.
Round1.
Make magic ring or adjustable ring and 7sc in ring (7 sts)
Round2.
2sc in each st around (14 sts)
Round3.
(*Sc in next st, 2sc in next st*) repeat 4 time then sc next stitch and chain 6 then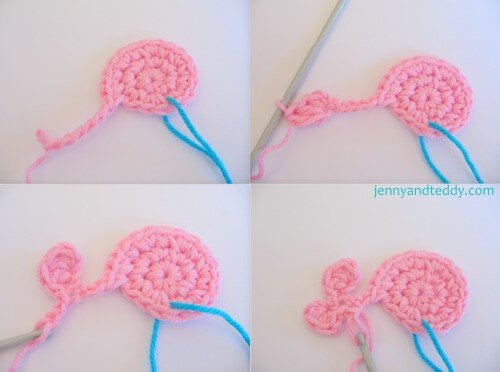 turn next stitch from hook ( make hdc,hdc,dc in the same stitch)
then sl st next, sl st next, chain 2 turn (make hdc,hdc,dc in the same stitch and sl st in the same stitch)
We are almost done here so go for the whale body sl st next, sl st next, next hdc, next dc, next dc, next sc, next sl st, next sl st, next sl st, next sl st.
Simple and cute crochet applique, right?!
Leave a comment if you love it!
I hope you enjoy this free pattern.
Happy crocheting!